Top 3 Food Delivery Apps saving us in the Pandemic
The pandemic broke out last year, and we have been having tough times in enjoying our life in food and merrymaking. But these online food delivery apps are here to save your day! Want to find out the whats and whens and hows of food delivery, right at your doorstep, then keep reading the blog.

Okay, we know we can rely on food delivery services when we have a celebration or simply just chilling out alone or with friends, some of these apps have delivered to Covid patients and are somewhat being dubbed as Angels!
So, let's rephrase the title here, let's find out the food delivery apps in India and locally (read Kolkata), to see who all are delivering to covid patients and who are not.

Zomato
When it comes to Zomato, here's what their food safety guidelines say:
Contactless Delivery – amidst the current lockdown situation in India, ensuring delivery of safe, hygienic food to our customers is paramount for us. To ensure this, we have launched contactless delivery. Customers can opt to allow the delivery partner to leave the package outside their home, ensuring no human-to-human interaction, hence lowering any transmission risk.
Face masks – they believe that people should wear masks for the sake of others, if not for themselves. In that spirit, we have distributed and continue to distribute face masks to our delivery partners to keep them, as well as our customers, safe from the spread of an unlikely infection. They are also continuously educating our delivery partners on hygiene practices (not to touch face, nose, sneeze in the elbow, etc.) to ensure their own as well as the ecosystem's safety.
Disabling COD – for safety reasons, we've temporarily disabled the CoD (cash-on-delivery) option on our app to avoid contact between our users and delivery partners.
Strict hygiene standards at restaurants – we are making a big push to ensure hygiene standards are being followed by restaurants and passing on that information to users so that they can make an informed decision and are assured of the safety and hygiene standards of the food. 
Restaurants can issue a self-declaration on whether they are complying with best practices advised by WHO at their premises, to take precautions against the spread of Coronavirus.
Restaurants have set up hand washing & sanitization stations and are ensuring that restaurant staff, as well as delivery partners, are using them regularly. 
Restaurants are being encouraged to adopt the practice of sanitizing their kitchen slabs and utensils at periodic intervals.
Restaurants are also checking the body temperature of restaurant staff as well as our delivery partners to ensure that food is not delivered by someone with a higher than normal body temperature.
Delivery partners are being asked to share a daily self-declaration on their hygiene and health – normal body temperature, sanitized masks, and bags. We are also enforcing policies to ensure adherence to hygiene and health standards.
Check out their full safety and post-pandemic delivery policy here.
Swiggy
For Swiggy the following are some rules to be followed:
Restaurant partners check the temperatures of their entire staff every day. Anyone with a temperature above 99.1 F is advised to rest at home. Similarly, any staff member who feels ill or exhibits symptoms associated with COVID-19 is advised to stay at home until cleared from a doctor or after testing negative post the mandated quarantine period.
High levels of hygiene are promoted at restaurants. Restaurants conduct a complete scrub-down of every possible touchpoint — chairs, tables, doorknobs, countertops, and sinks — every 4 hours. All personnel involved in food preparation are provided 3-ply face masks. Hand wash stations are maintained at pickup points to allow delivery partners to practice safe hand hygiene. All orders are packed in an additional bag so that the food container does not come in direct contact with anyone during the transit.
Restaurants that adhere to all of these guidelines are promoted as having 'Best Safety Standards' on the app.
Sensitizing the delivery partners is especially important as they usually come in close physical proximity with different individuals, including customers, restaurants, and other delivery partners.
See more about this on the official website right here!
Domino's
Delivering the best pizzas to us since forever, Domino's has pledged to offer multiple safety measures to ensure your safety. Let's take a look at how.
Contactless Delivery is available as a delivery option. The delivery instructions box is for any special directions, including the location where you would like the delivery place. Pre-payment and pre-tipping make your contactless delivery more efficient.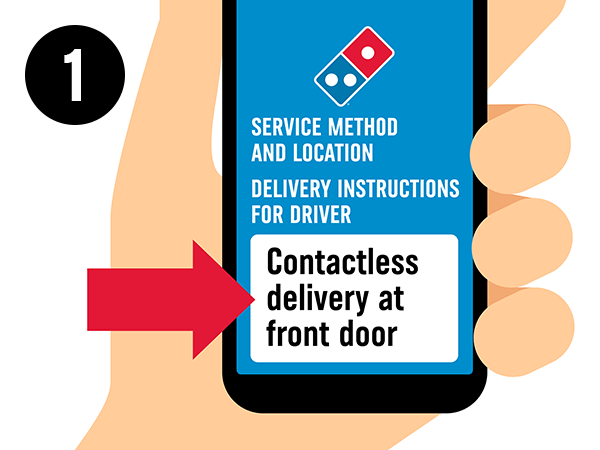 The delivery expert will notify you when the order has arrived and may call you (keep your phone handy).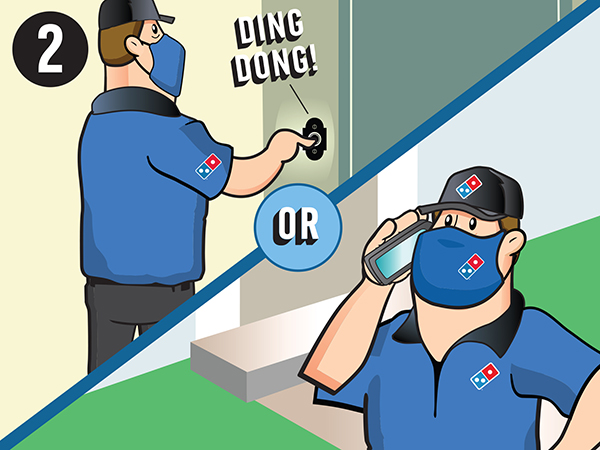 They will place your order on a clean and safe surface in the location that you specified in the delivery instructions.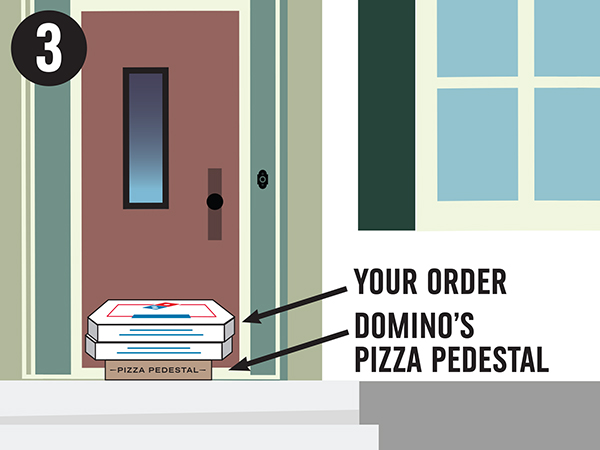 Please help us keep safe and wait until your Delivery Expert is 6 feet away before you collect your order.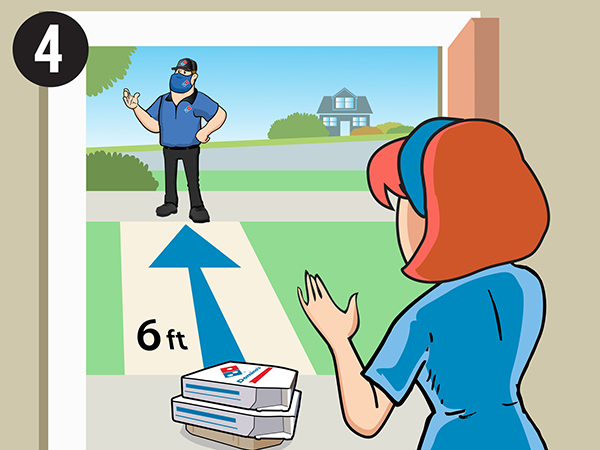 So there you are! Follow these covid safety guidelines and enjoy your favorite foods in every mood. Also, help those in need and you are good to go!